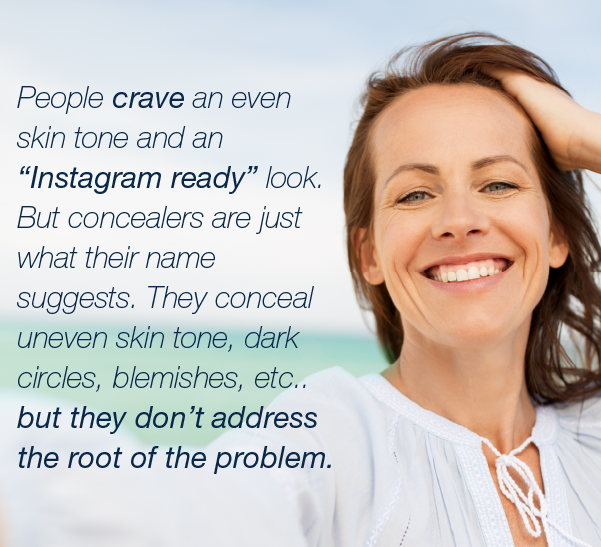 In this blog, learn about five ways to reduce uneven skin tone.
Wear sunscreen every day
It may be 55 degrees outside and cloudy, but the sun rises every morning. Make sure to incorporate sunscreen into your morning skincare routine to protect your skin against UV light. UV light is what activates melanin production in your skin, which can cause brown spots.
Don't pick your skin
Whether it's a pimple, dryness, or acne, picking your skin or popping a zit can cause redness and irritation to the skin. Doing so can worsen your condition and your struggle with hyperpigmentation will continue.
 Avoid certain foods
If you find yourself struggling with uneven skin tones all of a sudden and you have a balanced skincare routine and you aren't pregnant, the food you ate may be triggering the tone of your skin.
Foods to avoid if you're looking to even out your skin tone include:
● Alcohol
● Spicy food
● Food high in refined sugars
● Overly processed and greasy foods
● Dairy
Undergo a chemical peel
A chemical peel is a cosmetic treatment to remove damaged skin cells on the top layer of your skin to reveal the healthy skin underneath using chemicals. A light chemical peel requires little downtime, but a medium or deep chemical peel can require up to three weeks of recovery.
Chemical peels are a useful treatment for conditions like:
● uneven skin tone or redness
● sun damage
● wrinkles and fine lines
● acne scars
● hyperpigmentation
● scars
● Melasma
Try SmoothGlo™
Have you heard of SmoothGlo™? Not only have celebrities like The Bachelor and Bachelor in Paradise's Jade Roper Tolbert and Real Housewives of Beverly Hills star Kyle Richards tried it, but thousands of people nationwide are also receiving this treatment this year!
SmoothGlo™ is a sequential treatment to address the three main signs of aging – tone*, texture, and volume. This treatment uses intense pulsed light (IPL) and radio frequency (RF) microneedling technology to address your uneven skin tone*, texture issues, and volume loss.
Interested in joining SmoothGlo™ nation? Find a SmoothGlo™ provider near you at smoothglo.com and schedule a consultation.
* Skin tone improvement through treatment of pigmented lesions