Dr. Gilly Munavalli, the medical director and founder of Dermatology, Laser & Vein Specialists of the Carolinas, has an impressive background and training, including a dermatology residency at Emory University in Atlanta, GA., and dermatologic surgery fellowships in Mohs micrographic surgery, cutaneous oncology, facial reconstruction, cosmetic surgery and laser surgery at the University of California at San Francisco.
A graduate of Morehouse Medical School, Dr. Munavalli was board-certified by the American Board of Dermatology in 2002. His expertise includes tumescent liposuction, blepharoplasty, laser skin resurfacing, facial volume enhancement, fat transfer, as well as laser removal of small blood vessels, birthmarks, acne, tattoos, fine lines and wrinkles.
Dr. Munavalli currently is an assistant professor at the Wake Forest University School of Medicine – Department of Dermatology and a Cosmetic Dermatologic Surgery Fellowship Director for the ASDS.
Lumenis was pleased to talk to Dr. Munavalli about why the new Lumenis Legend Pro™ is important for his thriving practice.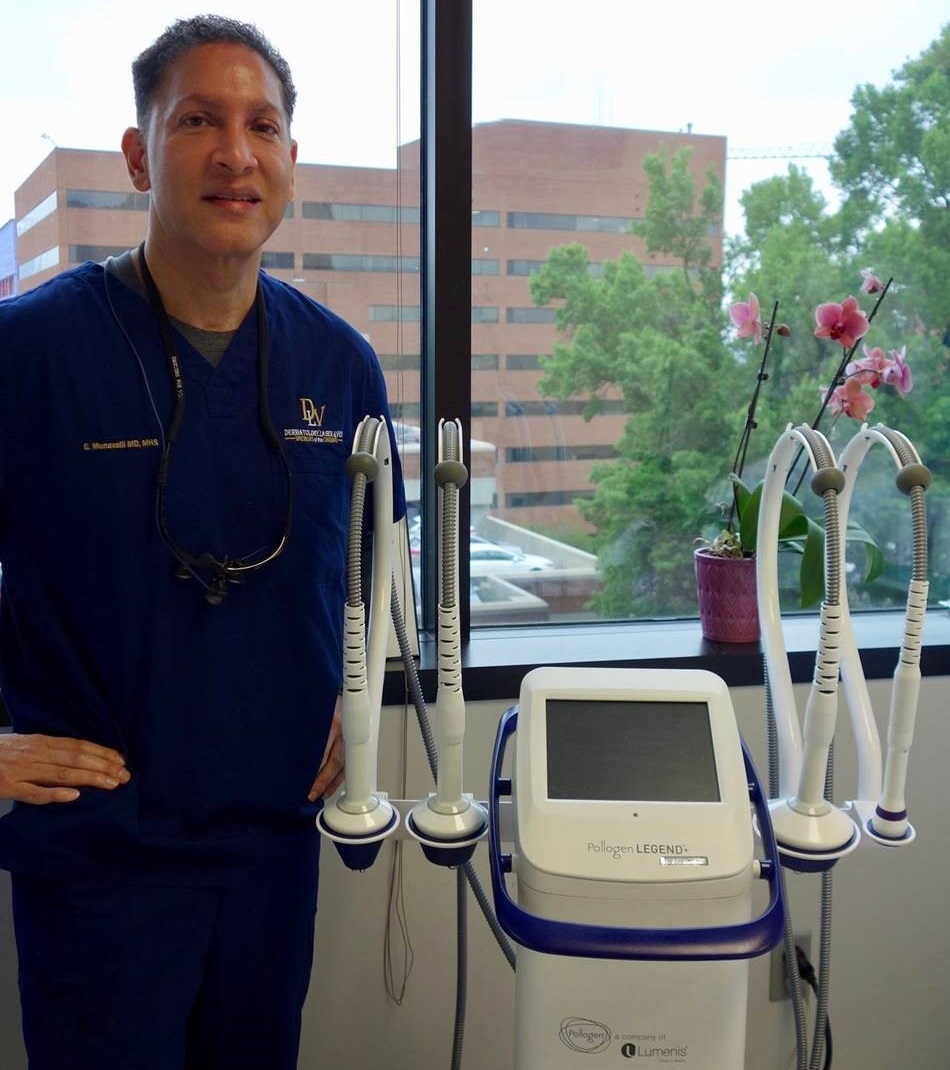 What makes Legend Pro™ unique as a skin rejuvenation device?
Dr. Munavalli  "Legend Pro is unique because it targets different levels of the tissue with three complementary radio frequency technologies that can work independently or in conjunction with one another. This multi-platform machine lets us customize a treatment plan for each patient.
"Number One: TriPollar® technology heats the -dermis with focused radio frequency energy to induce collagen and elastin production and treat wrinkles and rhytides with controlled bulk heating. A sensor embedded into the handpiece tells me when I've reached my target temperature, and this precisely controlled heating results in excellent collagen remodeling. The three applicators–with small, medium or large area coverage–are designed for smaller and larger areas of the face. Hot and cold spots are completely eliminated throughout the entire treatment, the epidermis stays safe, and the patient immediately sees results.
"Number Two:  VoluDerm™ technology delivers controlled and uniform RF energy deep into the dermis with an array of ultra-thin electrodes that create micro wounds to trigger the body's natural healing process.  The production of collagen, elastin and hyaluronic acid rejuvenates the skin from within.
"Number Three:  TriFractional™ technology provides pinpoint ablation and controlled volumetric RF heating to the epidermis to promote new healthy skin with even toning and texture. The pins are thicker and shorter than on the VoluDerm™ tips."
Is the VoluDerm (RF assisted ultra-thin electrodes) treatment comfortable?
Dr. Munavalli  "It's not only comfortable. The treatment is painless, and I don't have to prepare the skin with numbing creams or injections. The electrodes are the thinnest on the market, and because they're not insulated, the energy runs through the entire ultra-thin electrode for a nice, comfortable glide into the skin via smooth ablation. The use of radio frequency energy to assist ablation and the ability to increase or decrease the diameter of the coagulation zone, in correlation to power used, prevent bleeding."
What patient demographic do you attract with Legend Pro™?
Dr. Munavalli  "Younger people understand that by taking care of their skin earlier in life they can avoid the need to have major procedures later on. They also want to look the best they can in the competitive job market. They're learning about microneedling in general, in beauty blogs and magazines, and they like Legend Pro™ treatments because they don't require pain medication and can go back to work right away. Many patients in their mid-to-late 20s and early 30s are coming in for these types of treatments; even younger to treat light acne scarring."
How long is each treatment and how many are needed?
Dr. Munavalli  "Each of the three Legend Pro technologies lasts about 15 to 20 minutes.  The combination of TriPollar and VoluDerm technologies, called M2™, takes about 30 minutes. Typically, VoluDerm requires three to five treatments; TriFractional, two to four treatments; TriPollar, four to six treatments, and the combination of TriPollar and VoluDerm, four to five treatments.
"Short treatment times let us perform more treatments with each platform each day."
On what type of imperfections is Legend Pro™ most effective?
Dr. Munavalli  "Legend Pro is color-blind, so we can use it on a wide range of skin types and imperfections, all year round, from resurfacing the upper layers of the skin to renewal of collagen and elastin fibers in the deeper dermis."
Who can use Legend Pro™?
Dr. Munavalli  "Physicians and mid-level providers, depending on state regulations."

Author: Dr. Gilly Munavally
Medical Director and Owner at Dermatology, Laser & Vein Specialists of the Carolinas
Linkedin