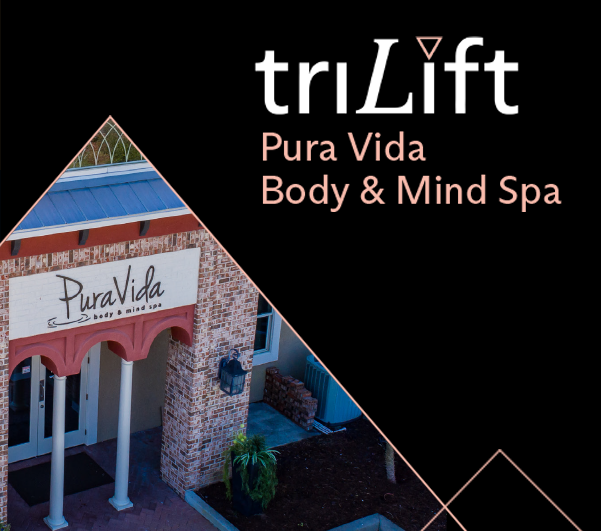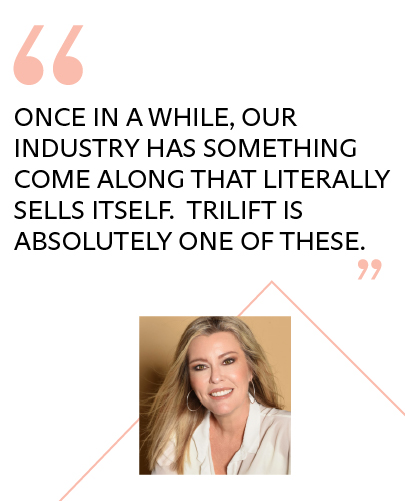 Julie Davis
Founder / Owner
Pura Vida Body & Mind Spa, Inc.
Fleming Island, FL
Introduction
Julie Davis is the visionary founder of Pura Vida Body & Mind Spa, a one-of-a-kind medical spa in Fleming, Florida. Pura Vida (a Costa Rican term which means being thankful for what you have and not dwelling on the negative) serves patients using a holistic, results-centric philosophy that combines medical treatments with non-medical services to both restore youthfulness and reenergize the mind.
Julie Davis knew that integrating triLift by Lumenis into her offering would help her clinic soar! Find out how she reached this decision and how implementing triLift elevated Pura Viida Body & Mind Spa.
Why did you add triLift to your offering?
We surveyed our patients a year ago and found that most over the age of 40 were very interested in a face lift but most said they wouldn't undergo surgery. So, when I heard about triLift, I knew it was the game changer we were waiting for. Our patients had already told us they wanted a non-surgical treatment that will provide an effect similar to a face lift, so we grabbed the opportunity as soon as triLift became available. In just 5 short weeks we sold 72 packages, nearly paying off our device! Best of all, while other med spas were reporting being very slow in August, we were crushing it. Best decision I ever made.
How does triLift's facial capabilities complement your existing offering?
With respect to non-surgical facial treatments, the med spa industry has always had a huge treatment gap until now. Prior to triLift, we had no way to tone the facial muscles without surgery. By adding Dynamic Muscle Stimulation to RF treatments, triLift is the total game changer for our med spa. We see outstanding effects in patients such as a defined jaw line and an overall toned and lifted appearance to the face. Likely due to the huge impact of social media, we find that younger women are concerned about aging and looking for ways to maintain their youthful appearance. That's what we love so much about triLift – it's a perfect treatment for a wide range of ages.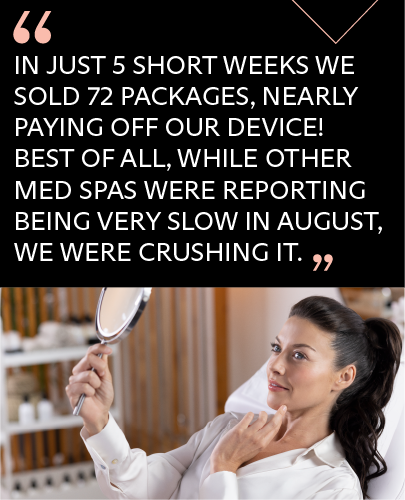 What was implementation like?
Excellent! We pride ourselves on launching strong with new devices and Lumenis made that not only possible but also very easy. Our rep was super supportive and efficient moving from contract signing to delivery, training and connection to all the practice support resources. Everyone on the Lumenis
team has been knowledgeable and helpful. Because of this, we were able to have our website updated, mass emails and text campaigns, Google ads, and Facebook ads up and running before we were even clinically trained. The result? We pre-sold 19 packages and had patients booked by the day of training.
Does triLift help with patient acquisition?
Yes. In addition to quickly adding our practice to the "Provider Locator" Lumenis also provided a combination of marketing tools. We have usual items such as a good supply of patient brochures and banner stands. Lumenis also has social media graphics, advertising templates, and website copy available for locations who need them. One of the unique items is a triLift car wrap.* Car wraps are a unique approach to patient outreach, like a billboard only much better!
Lumenis is heavily committed to raising patient awareness for triLift via celebrity-branded, direct-to-consumer marketing campaigns. A number of television personalities with big followings are promoting it. This is the kind of push that's needed to make triLift a recognizable brand name.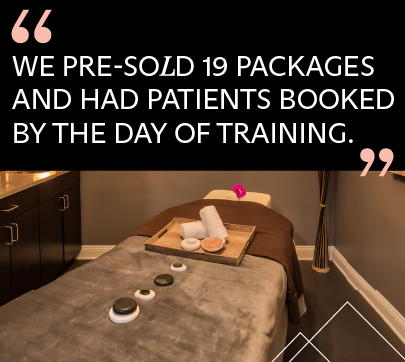 What do patients say about their facial effects following triLift?
Patients love that they see effects immediately. We treat one side of the face, hand them a mirror and they're blown away by the immediate reduction in wrinkles and the facelift like effect. From their first treatment, they see noticeable effects, which makes them feel confident that final effects will be even better at the end of their treatment package. It also helps them feel sure about the financial investment they made. From day one, they are excited about their treatment journey which makes the entire process so much easier for patient and provider.
What advice would you give other providers?
Don't delay in getting on board! This should be a nobrainer decision for med spas, especially those specializing in non- surgical treatments. Once in a while, our industry has something come along that literally sells itself. triLift is absolutely one of these. If you don't believe me, just ask your patients this one question, "If you could have a face lift like effect without having a surgical face lift, would you?" You will no doubt get a resounding yes! Think about it, have you met anyone who doesn't desire to look younger? What holds most back from getting med spa treatments is pain, downtime and lackluster effects. triLift is a homerun with all three which is why it practically sells itself.
*The car wrap program is not available in all areas and not all locations qualify for a triLift car wrap. Consult your Lumenis representative for more info.
This is a testimonial that represents a specific experience. Experience of others may vary.
Indication For Use:
The triLift™ system is intended for dermatological procedures requiring ablation and resurfacing of the skin when using triFX™ Energy (Applicator VO), as well as intended for use in dermatologic and general surgical procedures for the non-invasive treatment of mild to moderate facial wrinkles and rhytides when using TriPollar® RF Energy (Applicators 1-3). The triLift with the DMSt™ mode is intended for muscle conditioning to stimulate healthy muscles. triLift with the DMSt™ mode is not intended to be used in conjunction with therapy or treatment of medical diseases or medical conditions of any kind. triLift is intended to be operated by a trained professional who is present to monitor treatment.
The following possible side effects can occur following triLift treatment:
Side effects may appear either at the time of treatment or shortly after. Side effects may include any of the following: prolonged or significant pain, damage to natural skin texture (blister, burn), excessive skin redness (erythema), excessive swelling (edema), fragile skin bruising, excessive itching, change of pigmentation (hyper-pigmentation or hypopigmentation), scarring, transient skin break-out such as acne and pimples. For complete list of contraindications, please refer to the User Manual.
Contraindications:
triLift is contraindicated for patients with pacemaker, defibrillator, or any implanted electronic device, metal implants in the
treatment area.
© 2022 All Rights Reserved. The Lumenis Be Group of Companies
PB-00052140 Rev A