In October, Wendy (last name) underwent her second SmoothGlo™ treatment with Dr. Michael Mirmanesh at The Garden Med Spa in Voorhees, NJ, at their "SmoothGlo™ Out of Summer" event.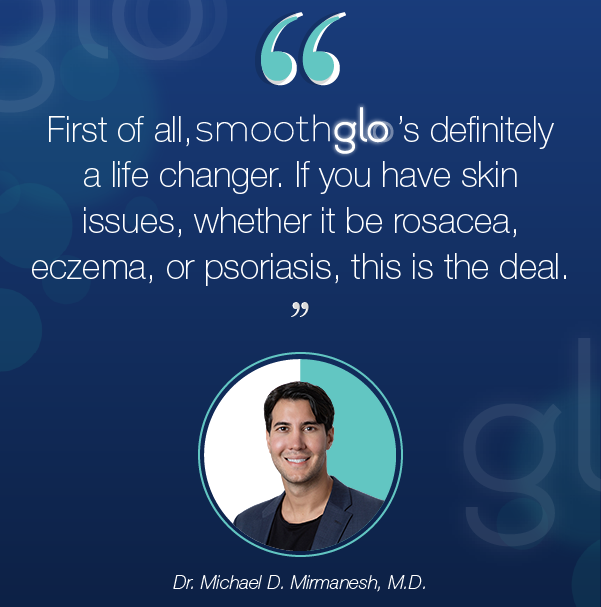 Q: Tell us a little bit about your first procedure.
A: So, I was a little anxious and a little apprehensive because I didn't know what to expect and it was nothing to be anxious about. It was easy, everybody takes great care of you. I had no pain, there was no downtime and I went to work the next day. People actually commented and said to me, "Your rosacea looks like it's coming down." So I couldn't wait to come back and get my second one!
Q: You just had your second treatment minutes ago. Could you tell us how you feel right now?
A: I will tell you I'm a nervous kind of girl and I have to tell you – I fell asleep while they were doing my SmoothGlo. It's amazing I had no pain. Everybody takes such good care of you. So now, I do feel like I know I've had a treatment, but no pain at all, I'm going to work tomorrow and I can't wait for everybody to see me and it's just awesome.
Q: Why would you tell someone to get SmoothGlo?
A: There are so many reasons to get it. First of all, it's definitely a life changer. If you have skin issues, whether it be rosacea, eczema, or psoriasis, this is the deal. I can tell you, I have spent a gazillion dollars on topical treatments that are so temporary and this lasts months, so it's the only way I would go.
If you're interested in experiencing life changing results like Wendy to address the three main signs of aging – tone*, texture, and loss of volume – find a SmoothGlo provider near you at SmoothGlo.com
* Skin tone improvement through treatment of pigmented lesions