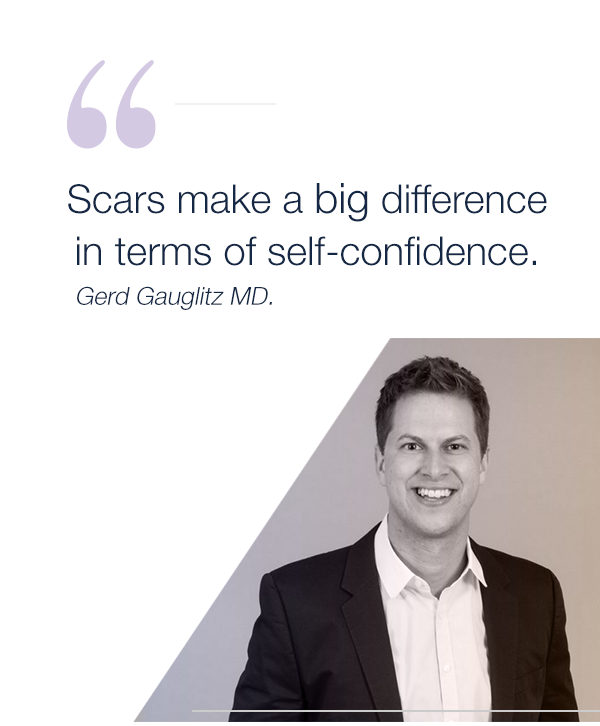 "Scars make a big difference in terms of self-confidence."
Dr. Gerd Gauglitz is a dermatologist at a clinic in Munich that provides dermatosurgery and minimally invasive aesthetic interventions, with a main focus on scar therapy.
Dr. Gauglitz has been using Legend Pro+™ for a long time to treat scars, sunken acne scars, and striae as well as self-injury scars in combination with ResurFx™. Most patients are 20-30 years old, but increasingly younger patients are attending the clinic with their parents in the hope of a non-invasive treatment.
"Self-harm scars are ugly reminders of a difficult time in a patient's life."
Cutting is a form of self-injury that provides an outlet to cope with emotional pain and frustration, and can lead to permanent scars. "It is absolutely understandable that patients want these physical reminders to disappear or, at least, be significantly improved," comments Dr. Gauglitz.
Self-harmers can be susceptible to overpromises, so he feels it is important for doctors to manage patient expectations by being honest and realistic about what can be achieved: scars may be improved but may not disappear completely.
Dr. Gauglitz says he has witnessed many touching stories over the years and admires the courage that patients have in being able to tell them. One notable example was a primary school teacher with a couple of subtle scars on her forearm, which she was extremely self-conscious of. "Luckily, fine self-harm scars can be treated extremely well by Legend Pro+™ especially when combined with ResurFx," remarks Dr. Gauglitz. After just 3-4 sessions, his patient no longer suffered from her feelings of embarrassment and was even confident enough to wear T-shirts again.
"Our patients are relieved that there's an alternative to surgery."
Many people still think that surgery is the only option to treat scarring, yet the procedure is highly aggressive, with possible side effects. Instead, Dr. Gauglitz advocates trying a non-invasive energy-based procedure first: progress can be seen after just 2-3 treatments, so that a full 8 sessions may not be necessary.
"A lot of body flaws look worse subjectively, not objectively. It's the same with self-harm scars"
Scars make a big difference in terms of self-confidence. Thanks to just a moderate improvement, an above-average number of patients can finally be able to deal with their whole issues.
Although the clinic tested other RF-microneedling devices by other manufacturers, they chose to continue with Legend Pro+™ because of its high safety profile, ease of delegation, and great results. "Despite all the devices we have available, we can now approach scar remodeling in a completely different way," enthuses Dr. Gauglitz. "Legend Pro+™ offers new possibilities, and makes all the difference in everyday life."
"We can't do magic but, in most cases, we can improve scars in a relatively uncomplicated way."
About Legend Pro+™
Legend Pro+™, by Lumenis, a global leader in laser and energy-based technologies,
offers a complete toolkit of non and minimally invasive technologies for creating tailor-made treatments and personalized results.
From resurfacing of the upper layers of the skin, promoting the regeneration of collagen and elastin fibers in the deeper dermis to toning and firming the SMAS layer, firming and toning of muscles in the treatment area, this 4-in1 platform ensures a treatment with immediate results, long term efficacy, and minimal pain and downtime.
To discover how Legend Pro+™ can make a difference to your patients' lives and your business.