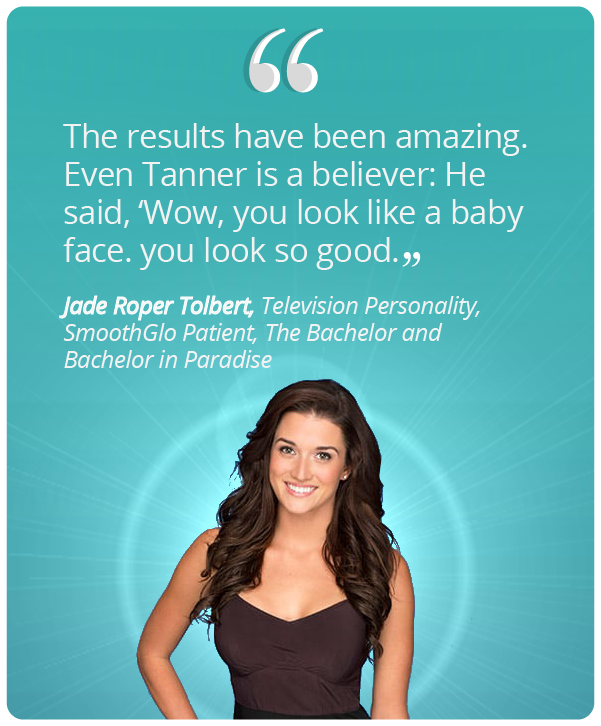 Studies show that when people have access to sunlight, it increases their serotonin levels and alleviates Seasonal Affective Disorder (SAD). As we approach the colder months, it's important to spend some time in the sun. However, too much sun can lead to skin problems such as age spots, or skin pigmentation caused by an excess production of melanin in various areas of the face and/or body.
Is laser treatment right for you?
Once age spots form on your skin, you may look into options to remove them or lessen their appearance. If you haven't tried laser therapy, SmoothGlo™ can open your eyes to a treatment that addresses your age spots and lets you resume your day, right after your treatment.
SmoothGlo™ by Lumenis is a sequential treatment that utilizes the power of intense pulsed light (IPL) and RF microneedling.
What celebs are saying about SmoothGlo™
When The Bachelor and Bachelor in Paradise star, Jade Roper Tolbert tried SmoothGlo™, she said the treatment gives her "babyface."
"The results have been amazing. Even Tanner is a believer: He said, 'Wow, you look like a baby face; you look so good.' Jade said.
Not only does SmoothGlo™ address age spots, it targets the three main signs of aging – tone*, texture, and volume loss. And with certified providers located across the United States, it's easy to schedule a consultation to see if SmoothGlo™ is right for your skin.
Visit SmoothGlo.com to find providers, stay up to date on our latest events and updates, and see some amazing before and after photos of patients like you after just one or a few SmoothGlo™ treatments.
* Skin tone improvement through treatment of pigmented lesions