"LightSheer®, laser hair removal can make big changes in patients' lives."
Petrina Nugawela is a Specialist Aesthetic Practitioner and founder and director of MBA Clinics, which she set up 15 years ago and now has three practices in South-East England. Her clinic is renowned for treating patients who suffer from polycystic ovary syndrome (PCOS) with laser hair removal due to its effectiveness in permanently reducing or removing unwanted hair.
Petrina says she sees a lot of patients in her line of work, remarking "Nothing shocks me when it comes to hair removal and meeting people with lots of hair on their face or their body." However, she admits to having to take a step back when one young girl came in for her first appointment: Claudia, who suffered from hypertrichosis.
"It was a really bad situation."
Petrina describes Claudia's skin as "unbelievably bristly" commenting, "The patient had been shaving twice a day, with her body covered in long, thick black hair". Claudia had refused to go to university, would not leave her room, and had tried to take her life more than three times. "It was a really bad situation," adds Petrina.
Although Claudia was under a consultant for her condition, no-one had taken into account how to help her with the way she looked physically. Petrina continues, "I decided to treat her with LightSheer® and, within just six months, the results were amazing!"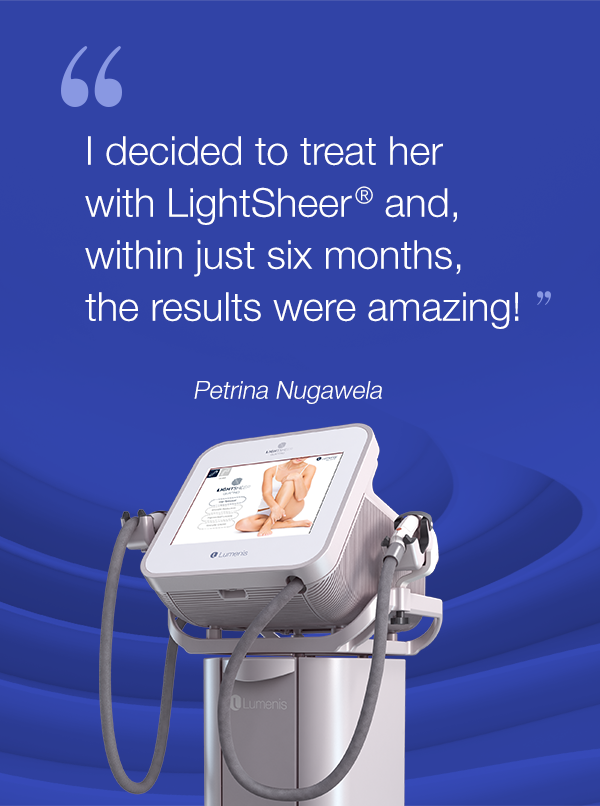 Claudia regained her confidence and self-esteem: she returned to her studies at university while undergoing treatment with LightSheer®, then went on to graduate and is now working. "LightSheer® made a difference that was simply life-changing,".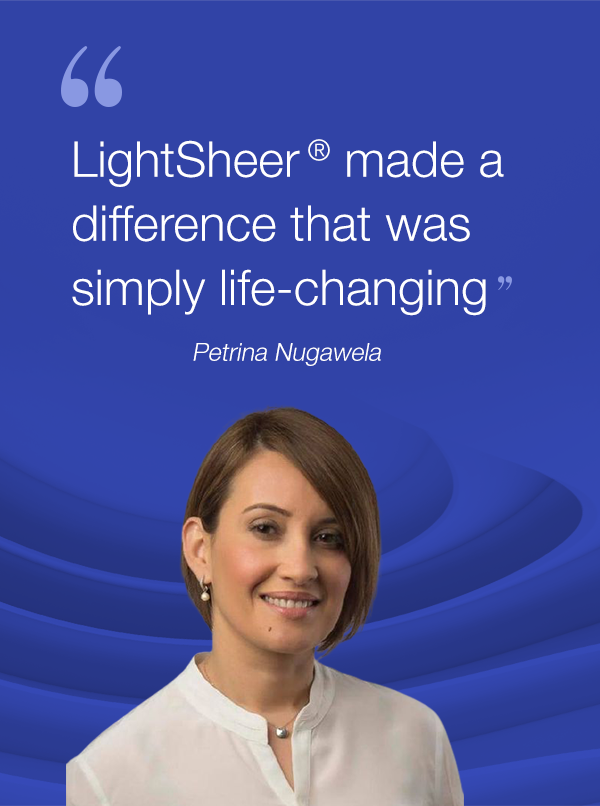 About LightSheer
LightSheer, by Lumenis, a global leader in laser and energy-based technologies, is a non-invasive aesthetic diode laser hair removal system to treat women and men that is effective, fast, safe and comfortable – and helps them regain their confidence.
LightSheer® technology has been validated in numerous clinical studies and peer-reviewed articles, with customers the world over continuously reporting high levels of patient satisfaction and repeatable results.
With LightSheer® QUATTRO™, treatments can be customized according to each individual's hair type, skin type (including tanned and dark skin) and lifestyle, with either 805nm or 1060nm wavelengths thereby enabling access to a wider demographic. It allows practitioners to deliver excellent clinical results by combining High Speed Vacuum assisted technology with ChillTip™ Integrated Contact cooling technology.
To discover how LightSheer® can make a difference to your patients' lives and your business.