"War is hell and it takes a lot to recover from it."
Marine Corporal Timothy Read, age 31, lives in Tampa, Florida, USA. He enlisted in the US marines in 2007 and, on October 15, 2010, during his second deployment in Afghanistan, he stepped on an improvised explosive device (IED).
Timothy was severely wounded: he not only suffered traumatic brain injury and was blinded for a few weeks but also lost his left leg above the knee. He had to undergo 25 surgeries and would "stay awake at night suffering from his internal demons".
Timothy was introduced to laser hair removal with SPLENDOR X by Dr. Thomas Beachkofsky, Assistant Professor at Wilford Hall Ambulatory Surgical Center & Brook Army Medical Center, when attending the dermatology department for scar treatment with CO2 laser. Dr. Beachkofsky's clinic is unique in providing a wide range of laser light energy-based services for military patients, including laser hair removal with SPLENDOR X.
"SPLENDOR X's impact on quality of life can be significant."
The compression an amputee can get with a prosthetic device on their limb leads to frictional folliculitis. In turn, this can lead to skin breakdown and often skin and soft tissue irritation. Removing hair on the residual limb improves the fit of the prosthetic device can be improved and decreases the likelihood of folliculitis.
However, one of the challenges with laser hair removal is that, in order to remove hair adequately, sufficient energy needs to be used. Treatment can be therefore be uncomfortable … and amputees have already been through enough trauma.
Dr. Beachkofsky tried many different types of lasers to treat Timothy, but it wasn't until he used SPLENDOR X that results became noticeable. "I find SPLENDOR X preferable for laser hair removal because it allows high-enough energy to be used yet the treatment is safe and improves patient comfort," remarks Dr. Beachkofsky.
"This treatment has opened up doors."
Timothy had around 7 sessions of laser hair removal, and says it's been a "game changer" for him because there is less friction on the socket and the irritation and swelling have stopped. "Laser hair removal has also reduced sweating and allowed me to feel my prosthetic more," he adds. "I can now clean my residual limb in the shower better and I'm more aware of any cuts or lesions."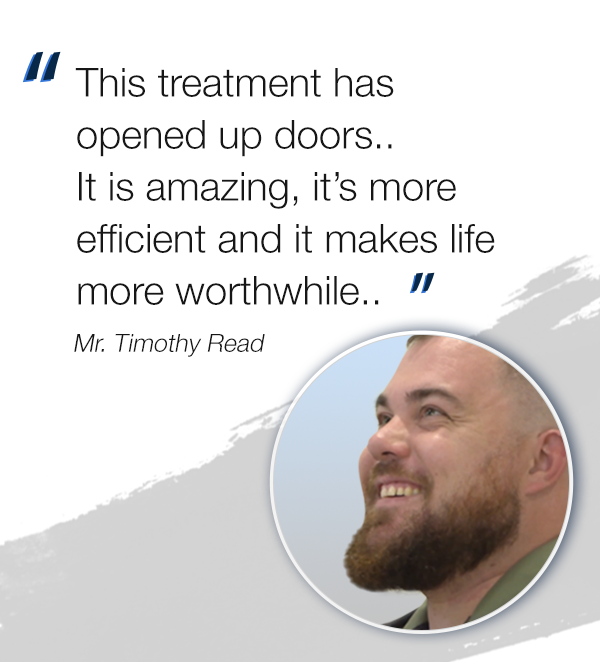 Timothy encourages other amputees to try laser hair removal with SPLENDOR X, finding this non-surgical procedure to be far more beneficial than expected. "My outlook has definitely changed because of the small tasks I can now accomplish."
About SPLENDOR X
SPLENDOR X, by Lumenis, a global leader in laser and energy-based technologies, lets you customize hair removal and skin treatments across an infinite spectrum of skin tones.
Powered by BLEND X technology, Alexandrite 755nm and Nd:YAG 1064nm wavelengths can be synchronized to be fired independently or simultaneously, with varying proportions to tailor treatment. An advanced ergonomic handpiece integrates a plume evacuator and cooled air for added comfort.
To discover how SPLENDOR X can make a difference to your patients' lives and your business: