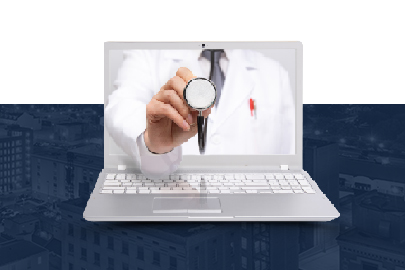 Featured Expert: Alissa Lamoureux, DO, FAOCD, FAAD
The recent COVID-19 pandemic has resulted in a surge in telehealth interest from providers who want to protect themselves, their staff, and their patients from exposure while continuing to keep their practices open (even virtually).
Healthcare providers have all been impacted by the recent global pandemic. Telehealth helps minimize patient contact and exposure, allowing better adherence to social distancing guidelines and reducing risk of exposure. It has opened many doors to providers and patients alike. The ability to offer patients vital healthcare services via videoconferencing or other remote technology increases access to physicians and specialists for patients while enabling providers to increase revenue potential and improve overall efficiency.
Telehealth allows physicians to view, diagnose and develop treatment plans for many skin conditions remotely based on high-resolution digital images and videos provided either synchronously (2-way video) or asynchronously (store and forward).

– Routine dermatologic care for skin concerns such as acne, rashes, hair loss, dry skin, flaking scalp, increased sweating
– Ongoing care for chronic problems such as psoriasis, eczema, lupus, rosacea
– New problems such as a concerning spot
– Aesthetic consultations
Dr. Lamoureux also offers telehealth cosmetic consultations for numerous conditions: facial volume loss, pigmentation, tattoo removal, unwanted hair, wrinkles, cellulite, non-invasive body contouring, scars, lip enhancement, eyelash enhancement and more. She even offers follow up consultations to evaluate results and make plans for ongoing treatments.
Lamoureux summarizes: "These consultations allow patients to express their concerns and expectations of their end result. From there, we can partner to develop a comprehensive treatment plan and discuss the estimated pricing. Through this platform, sufficient information can be given to the patient for them to make an informed decision. This can be performed all from the comfort of their own home.
We will discount treatments for new patient consultations if they place a deposit at time of consultation, whether virtual or in-office. The overall response from our patients has been positive; patients view telemedicine as a simple and convenient solution."
Telehealth is utilized to support — not replace — traditional in person provider care. With telemedicine, care providers can continue to care for patients in-person, while still providing the flexibility and convenience of seeing patients remotely for new concerns, follow up visits, skin issues, and education, when appropriate or necessary.
Telehealth is a valuable tool for practice enhancement moving forward.